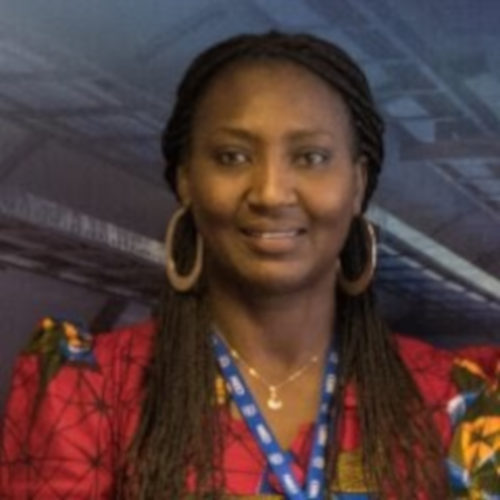 Fama Diagne Sène
Université Alioune Diop de Bambey (Bambey, Senegal)
Fama Diagne Sène

est née en 1969 à Thiès au Sénégal. Elle est bibliothécaire, romancière, nouvelliste et poétesse sénégalaise. Elle a fait sa formation en information documentaire à la Haute École de gestion de Genève. De retour au Sénégal, elle est nommée directrice de la Bibliothèque centrale de l'Université de Bambey en 2007. Elle participe souvent comme chercheure associée aux projets développés par le CERN à Genève. Elle est membre du Consortium des bibliothèques de l'enseignement supérieur du Sénégal (COBESS) et est Membre de la Convergence des Femmes Universitaires pour le Leadership féminin (COFULEF).
Fama Diagne Sène was born in 1969 in Thiès, Sénégal. She is a librarian, novelist and poet. She studied Information Studies at Haute École de gestion in Geneva. Returning to Senegal, she was appointed director of the central library at the university of Bambey in 2007. She frequently participates as associate researcher in projects run by CERN, Geneva. She is a member of the Senegalese higher education library consortium (COBESS) and a member of the consortium for female university leadership (COFULEF).
All OAI12 Sessions by Fama Diagne Sène
Scholarly Publishing
September 6, 2021
Le développement des presses universitaires sénégalaises : enjeux et perspectives pour un envol de l'Open Acces au Sénégal – Development of Senegalese university presses: issues and perspectives for development of Open Access in Senegal
Les établissements d'enseignement supérieur jouent un rôle primordial dans le développement socio-économique en raison de leur triple mission : (1) assurer la formation aux études supérieures d'une portion de plus en plus large de la population, (2) promouvoir la Recherche scientifique et (3) réaliser des services à la communauté. C'est dans un tel contexte que l'Etat du Sénégal a décidé, en 2000, d'octroyer des moyens substantiels à l'Education en général et à l'Enseignement Supérieur en particulier par un financement public de près de 11 % du budget national alors que la moyenne africaine se situe actuellement autour 3,8%.
Ce dernier axe a été renforcé par la signature du Projet de Gouvernance et de Financement de l'Enseignement Supérieur axé sur les résultats (PGF-Sup), entre le gouvernement du Sénégal et la Banque Mondiale, en mai 2011 Le PGF-Sup a été financé à hauteur de 50,6 milliards FCFA (101.3 millions USD). Le Gouvernement du Sénégal a affecté à la sous-composante « financement basé sur des contrats de performance » la somme de 21,5 milliards FCFA (43 millions USD).
Toutefois, au bout des quatre années d'exécution du contrat de performance, les universités sénégalaises n'ont pas atteint l'indicateur de « publication de manuels et de fascicules » par le Personnel d'Enseignement et de Recherche (PER). L'activité d'Enseignement semble ainsi prendre le dessus, au sein du campus universitaire, sur celle de la Recherche et de la publication scientifique malgré l'accent mis par la réforme LMD (Licence-Master-Doctorat) sur l'importance de la documentation scientifique dans les syllabi de cours (bibliographie obligatoire) et les Travaux Personnels des Etudiants (TPE). Pourtant dans le paysage editorial on eu : Les presses universitaires de Dakar PUD mises en place par l'arrêté rectoral n° 626 du 2 Septembre 1991 La Direction des Presses universitaires de Saint Louis (PUS) créés en 2007 Université SAHEL en 2000. Création et missions des PUB en mars 2015. 4 presses sur 12 universités. Soit 0.33 pour cent.
Les PUB constituent un support institutionnel pour la valorisation de la Recherche et pour l'édition et la diffusion des travaux scientifiques et didactiques. Un règlement intérieur précise le fonctionnement pratique des PUB. Les pub ont lancé un appel à candidature et a reçu près de 25 demande de publications au bout des procédures de publication, A Bambey par exemple : on a retenu 14 publications mais malgré tous les efforts et un voyage de mise à niveau du président du conseil scientifique et du secrétaire administratif, les choses sont restées au point l'université n'a pas les moyens de publier les ouvrages des enseignants. Réel problématique, les services de l'état sollicités n'ont pas pu aussi faire face. Que faire farce à ce problème de manque de moyens ? Peut-on laisser les enseignants se faire publier ailleurs, En Europe par exemple, quel genres de stratégies peut-on mettre en place pour un circuit d'édition e faveur de la recherche au Sénégal et qui favorise le libre accès?
Higher education institutions play a primary role in socio-economic development due to their three-fold mission: (1) Providing advanced training and education to an increasing proportion of the population, (2) promoting scientific research, (3) providing services to the wider community. In this context, in the year 2000 Senegal decided to grant a significant means of education in general, and higher education in particular, through public financing close to 11% of the national budget, which compares to an average acros Africa of around 3.8%. This was reinforced by Project for Governance and Finance of Higher Education based on results (PGF-Sup), signed between the senegalese government and the World Bank in May 2011. The PGF-Sup was supported financially with 50.6 billion FCFA (101.3 million USD). The Government of Senegal has allocated the sum of CFAF 21.5 billion (USD 43 million) to the "financing based on performance contracts" sub-component.
However, at the end of the four years of performance of the performance contract, Senegalese universities have not achieved the aim of "publication of textbooks and booklets" by teaching and research staff (PER). Teaching therefore seems to have a higher priority on university campuses, above that of research and scientific publication, despite the emphasis placed by the LMD (Masters and Doctoral training) reform on the importance of scientific documentation in course syllabi and the work of students (TPE).
Meanwhile, on the editorial side:
The Dakar PUD university press was set up by rectoral decree No. 626 of September 2, 1991. The University Press of Saint Louis (PUS) was created in 2007, and for SAHEL University in 2000. The creation and mission of PUB was established in March 2015.
In other words, 4 presses in 12 universities: 33 percent.
PUBs provides institutional support for the promotion of research and for the publication and dissemination of scientific and didactic work. Internal regulations specify the functions of PUBs. A call for applications received nearly 25 requests which are ready for publication.
In Bambey, for example: we have retained 14 publications. Despite these efforts and a visit to request support from the president of the scientific council and the administrative secretary, things have remained at this point and the university does not have the means to publish the teachers' books.
This is very problematic, and the national agencies to which requests have been made have not been able to respond. What can we do about this lack of resources? Should we let teachers publish elsewhere, in Europe for example, and what kind of strategies can we put in place for a publishing operation that favors research in Senegal and promotes open access?
Questions to a live Panel session with the speakers of today's session